Roberto Del Mastio,
Via Case Sparse 17,
I-50020 Panzano in Chianti (FI),
ITALY
History of Podere Felceto vacation villa in Tuscany
Tel/Fax: +39 055 85 24 73
Cell 333 33 16 905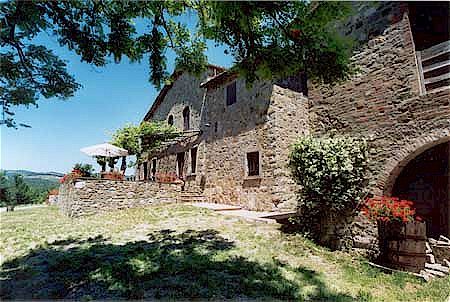 Felceto was mentioned in the XIV century in the registration book of properties that were involved in the cultivation of silk worms, an activity that "La Signoria dei Medici" favoured and promoted throughout the Duchy of Tuscany during that period. This activity lasted for many centuries at Felceto, and there are still four enormous Mulberry trees to one side of the house.

The Chiantigiana road that, from the time of the Roman Empire, has been a very important route of north-south communication in the Italian peninsula, passes within a hundred yards of Felceto and even today the stone Roman road can be seen in the nearby woodland.

Sometime during the XIV-XV centuries, a wooden bridge was built across the River Pesa that flows through the valley past Felceto and which formed the border between Sienna and Florence. Nearby, the guard tower of San Leonardo was built to provide protection for the bridge. This event increased the movement in the area of pilgrims, travellers, merchants and soldiers. During periods of heavy rain, the bridge was closed for days and sometimes for weeks, forcing travelers to find shelter in the area. Felceto, which was a monastery located "un tiro di schioppo" (a stone's throw) from the bridge and from the guard tower, found itself in a very special situation, useful and safe.

For these reasons, the monastery of Felceto adapted to the need and to the tradition of the time becoming a place of hospitality as well as a religious foundation.

There is no record of precisely when Felceto passed from ecclesiastic jurisdiction to that of the Signoria di Panzano but we know for sure that Felceto was a place of ristoro (refreshment) and hospitality for pilgrims and travellers for a long period, until it become a Casale Agricolo (principal farmhouse) and the Podere Felceto of today.

Il Casale, the building, even today has some of the characteristics typical of the monastery but also those of the locanda, a place of rest and refreshment, but more than anything Felceto retained the sensation of peace that can be found in all spiritual places. This feeling is perceived by everyone who goes to Felceto and gives himself the time to listen intently.