Vacation accommodations to rent in Chianti - "Casa Ramoli"
for 2 to 6 persons in the Chianti area of Tuscany, Italy.
One of the best ways to enjoy a vacation in Tuscany is to rent a vacation apartment in one of the characteristic farmhouses among the vineyards and olive groves. Your vacation rental should be central to the area you plan to explore, with facilities for outdoor relaxation and dining when you're not out exploring the territory.

Holiday homes always put a kitchen at your displosal. Some visitors prefer to cook their meals from fresh raw materials while others make a selection from the wide range of cheeses, cold cuts and prepared hot foods, including roast meat, available from supermarkets such as the Coop in Greve in Chianti, and from food stalls at the Saturday morning market in Greve and the Sunday morning market in Panzano.
> > > Click the pictures for a larger view < < <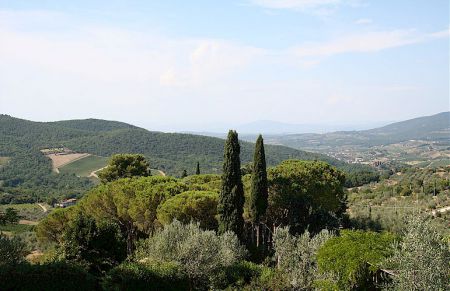 A view north from Casa Ramoli along the valley of the river Greve with the town of Greve in Chianti in the middle distance. In the background are the hills rising just north of Florence. Florence itself is out of sight in the valley of the river Arno.

In the foreground are cypresses, olive trees and umbrella pines that, along with vineyards, characterise the Chianti hillscape.

Chianti holiday home "Casa Ramoli" © 2009 - 2018. All rights reserved.