Tuscany villas, holiday homes and vacation rentals in Panzano :: agritourisms in Tuscany
"Agritourism" - renting a room, apartment or house on a vineyard or farm - is by far the best way for a visitor to enjoy the life of the Chianti countryside of Tuscany. Book directly from the owner and save money!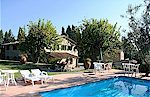 Country Apartments - pool (near Panzano and Greve)
Il Cascino provides holiday apartments in a restored farmhouse and its dependencies less than 1 km from Montefioralle and 3 km from Greve in Chianti. The property is surrounded by a stand of cypresses. We offer vacation apartments for 2 up to 6 persons. Adjoining apartments may be rented for larger groups. More about Il Cascino Chianti vacation apartments.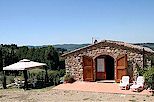 Country Apartment (near Panzano)
Agriturismo Felciano provides vacation accommodation for 2 up to 4(+1) persons on a working winery at Panzano in Chianti, Tuscany, Italy. Our holiday cottage in Chianti has been completely renovated with all modern conveniences, including WiFi, and is especially recommended for anyone with limited mobility since there are no steps inside the apartment and one of the two modern bathrooms is equipped for wheelchair users. We are located 500 m from the SITA bus stop and 1 km from central Panzano. From our gazebo you have a splendid view out over the vineyards of the Conca d'Ora. Open wine, olive oil and saffron are available for purchase. More about Felciano holiday cottage in Tuscany.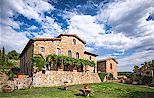 Country House/Apartments - pool (near Panzano)
Podere Felceto
is a spacious, traditional, stone Tuscan farmhouse originally built as a monastery in the XV century and located 2.5 Km from Panzano.
Sleeps up to 13 guests
.
More about
Podere Felceto
.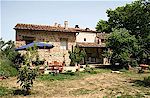 Country Apartments (near Panzano and Greve)

Agriturismo Biologico "Dondoli" offers two newly renovated apartments for 2 to 5 persons in the quiet countryside on an organic farm - an ideal location for families with children. Each apartment has its own terrace for outdoor dining and there is a grill for use by the our guests. Breakfast provided upon request. Our motto is "tranquillity and hospitality"! More about Agriturismo Biologico Dondoli.

Country Apartments - pool (near Greve)
Le Terre di Melazzano offers farmhouse holidays with hospitality in four independent apartments for 2 to 5 persons sleeping a total of 13 guests, 1 km from the centre of Greve. Swimming pool and sun terrace. More about Le Terre di Melazzano.

Country Apartments - pool (near Greve and Panzano)
In Patrizia Falciani's country rentals, each apartment has a garden or a private loggia. The swimming pool is surrounded by a garden from which you can enjoy beautiful sunsets across the Greve valley. Apartments for 2, 4 and 5 guests. More about Agriturismo Patrizia Falciani.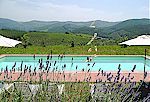 Country Apartment and Rooms (near Panzano and Greve)
Azienda Agricola Il Santo vineyard, run by the Turchi family, is situated in the Chianti Classico hills between Florence and Siena, 1 km away from Greve in Chianti. An agriturismo immersed in nature amongst vines and olive groves, it offers rooms with kitchenette and bathroom, and an apartment for 2 and 3 persons (kitchenette and bathroom). More about Azienda Agricola Il Santo.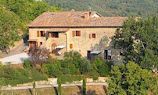 Country Apartments - pool (near Lucolena)
La Ghiandaia vacation accommodations near Lucolena. We offer five beautiful vacation apartments for 2 to 8 persons: separate entrances, all fully equipped with kitchen, bathroom and private area for outside dining. Wonderful views of the Chianti hills. More about La Ghiandaia Chianti vacation accommodations.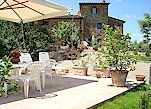 Country Apartment (near Panzano and Greve)

"Casa Ramoli" is a restored farmhouse that was once a 15 C watch tower. The house is located within walking distance of Panzano and, in keeping with its original function, has truly spectacular views over the Greve valley. Even Florence can be seen in the distance. Casa Ramoli offers vacation accommodation for 2 to 6 persons and has a large enclosed garden. More about "Casa Ramoli" holiday home in Chianti.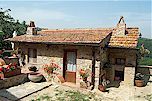 Country B&B room - pool (near Panzano)
"Il Forno" is a newly renovated Bed and Breakfast accommodation for two persons, located among the vineyards 2.5 km from Panzano in Chianti. "Il Forno" consists of a large double bedroom, with bathroom, situated on a Tuscan olive farm and agriturismo, with access to the large swimming pool. More about "Il Forno" B&B apartment for two persons in Chianti.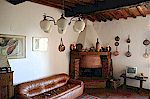 Village apartment (in Volpaia near Panzano)
Apartment "Il Cassero" is a newly-restored vacation apartment for up to 5 persons located in an old tower keep in the tiny village of Volpaia in Tuscany. The accommodation consists of a kitchen, large living and dining room, plus two double bedrooms rooms and a single bedroom. Extremely peaceful and within a couple of minutes walk of three restaurants. More about Vacation apartment "Il Cassero".

Country Apartment and Rooms - pool (near Lamole and Greve)
Poggio all'Olmo near Lamole is totally immersed in the peace of the countryside, surrounded by 10 hectares of vineyards and olive trees. We offer two apartments for 2 (+1) and 2 (+3) guests and two double rooms. More about Agriturismo Poggio all'Olmo.